New Zealand Youth Symphonic Winds Concerts
July 14 and 15 – Christchurch
To celebrate NZ's young musicians, NZCBA invites you to two concerts by NZYSW with music inspired by The Winds of Te Taki O Autaki, Music of the Southern Stars. Listen to wonderful works played by 40 musicians: some of the brightest rising stars from throughout Aotearoa New Zealand.
Concert One: Thursday 14th July 7:30pm, Papa Hou, 12 Hereford street Christchurch Entry is by Koha.
Concert Two: Friday July 15th 1:15pm, Tūranga, Christchurch City Library, Cathedral Square Free concert!
Join NZYSW and its remarkable director, Dr Kevin Cameron, for this celebration of youth, music and Aotearoa.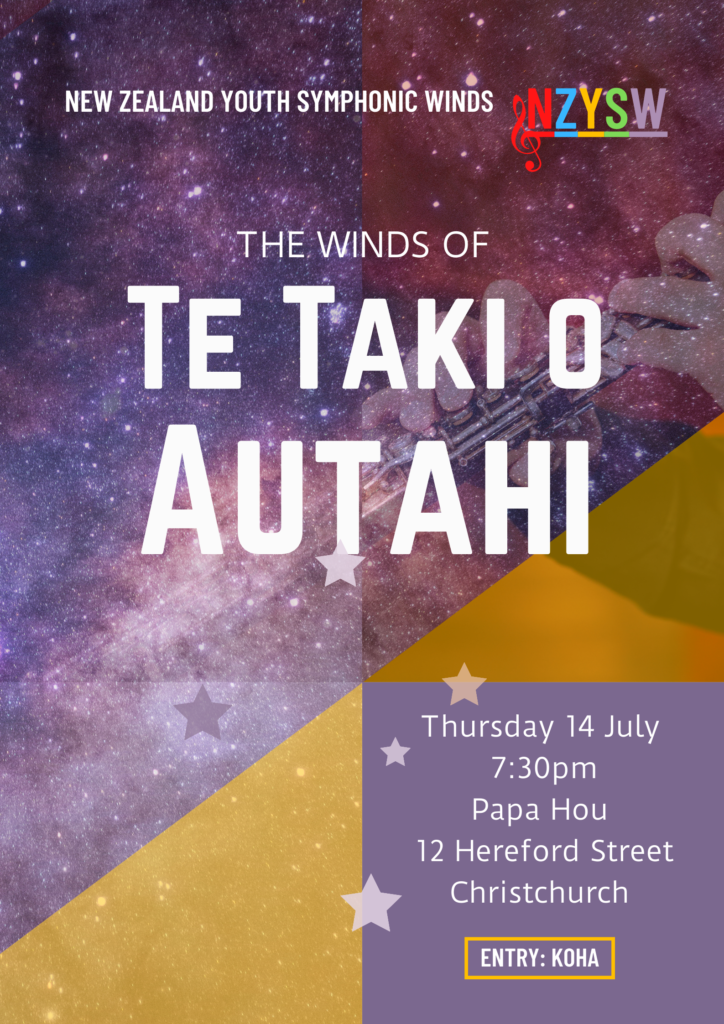 Newsletter – May 2022
Membership
Joining NZCBA for 2022 is free! We encourage all bands, be they community, youth, or school bands, to sign up and become members. It benefits NZCBA by helping to keep our band and contact information up to date, and benefits your band by helping us to keep you informed about NZCBA events and activities. Members also have voting rights at the AGM which gives you a say in the future of the organisation.
Click here to become an NZCBA member.
NZCBA Festival 2022 – Hamilton
Festival 2022 is full steam ahead! Aug 6th-7th. The venue is the Gallagher Academy of Performing Arts at The University of Waikato and the host band is Waikato Schools Symphonic Band.
Please click on this link to the Festival 2022 page for more information.
Community Outreach
Band Weekend October 7 – 9 2022 in Katikati.
This is a fun all-comers weekend. Katikati Concert Band is hosting us in a weekend of music making. Difficulty is grade 3 to 4 concert band music. Grade 5 on your instrument at least is recommended. The cost for the weekend is $60. Beth Cohen will be your conductor: she's full of fun and energy!
Conducting Intensive October 1- 2 2022 in Auckland.
This is an opportunity to improve your conducting skills. It is suitable for those who are working with bands in schools or communities, from beginner to advanced. You will select works to conduct West City Concert Band while Kevin Cameron supports your learning. It will be a remarkable opportunity for conductor development, and the growth of bands they direct. It is rare to find opportunity for feedback of this calibre – absolutely invaluable for any conductor.
Note that this has been postponed three times now, but it is going to happen!